| | | | | |
| --- | --- | --- | --- | --- |
| [ | mood | | | tired | ] |
LOTS of stuff has been happening recently. I've been too busy/lazy to update, but we're taking care of that today.

The concert went fine, and I actually ended up playing better than I play when I practice. Huh. Go figure. But while I was turning pages for my friend Grace and her sister, who were playing this really intense piano duet, I kind of screwed up and turned the page a bit early. I got it back on the right page fast enough, but not before poor Grace threw me this pancked look. Ack! But they didn't screw up or anything. There was this one guy, Gabrielle, who played HORRIBLY. It was really sad, because everyone else was actually pretty good. Apparently, he insists on playing every concert, whether he's prepared or otherwise. I personally think that it would be better to play just a few concerts really well rather than all the concerts horribly. Another weird thing was that the Prof. Tardani was RAVING about Gabrielle's music teacher, but any teacher that let's their student go on stage as poorly prepared as poor Gabrielle was, is probably not that great of a teacher. You never know. Maybe he'll do really well next time...

I went to Milan this Saturday, probably for the last time. I took the train by myself to Milano Nord station and met up with Diana and Matteo (their pictures are lower on the page). We went to an art museum and saw "Il Bacio" (the Kiss), a very famous painting, the painter of which I forget at this moment. We tromped around Milan, went to a music store and picked up some new sheet music for Grace (who couldn't come because she had something else going on that day), bought a few CDs, went to the Duomo, and in general just had a grand old time. Diana ended up leaving Matteo and I so that she could catch an earlier train, and we ended up going to the castle to see, in theory, the manuscipts of Dante's Inferno. We didn't actually end up seeing the manuscripts for Dante's Inferno, but we say a bunch of old textbooks (really old, here), and a few of the first books that were printed using the printing press. We did get rather soggy during this adventure, seeing as it was raining. AGAIN. Poor Matteo always forgets his umbrella and has to buy one from one of the people who sell them on the street. He said that I look like a wet cat when I've been rained on, so I shook my head and got him all soggy too.

On the way home, I ended up missing my intended train and taking a different one home. It turned out to be okay, seeing as this was an express train and I got home in about half the time I usually do.

Later that night, Raffi (Rafaelle, Francy's brother) picked me up and we went to a festival at Uboldo. Francy was working, but I spent a lot of time talking to Samu, who is a friend of Raffi and Francy, which was fun. He's studying something like languages and tourism at the university. Samu is blind, so whenever we go through crowded places or places with lots of obstacles, he'll link arms with Raffi and they'll go charging off together. It's really pretty cute.

The camera is working, so have lots of pictures today!

Il Duomo. Pretty, isn't it? It took over five hundred years to construct, and well worth the time, in my opinion.




Matteo with a cow. (Katie, this is what Italian boys look like. What were you expecting, Orlando Bloom?)




Diana with a cow. I think that there's about thirty of these cows out and about Milan. What their significance is, I have no idea.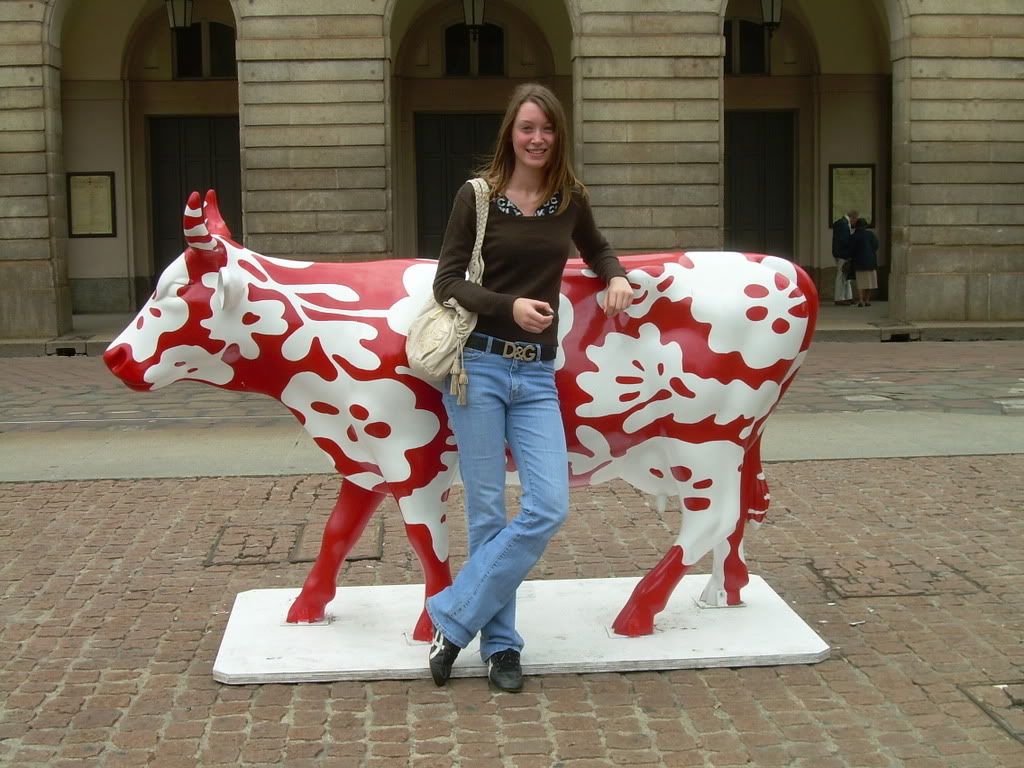 Cow.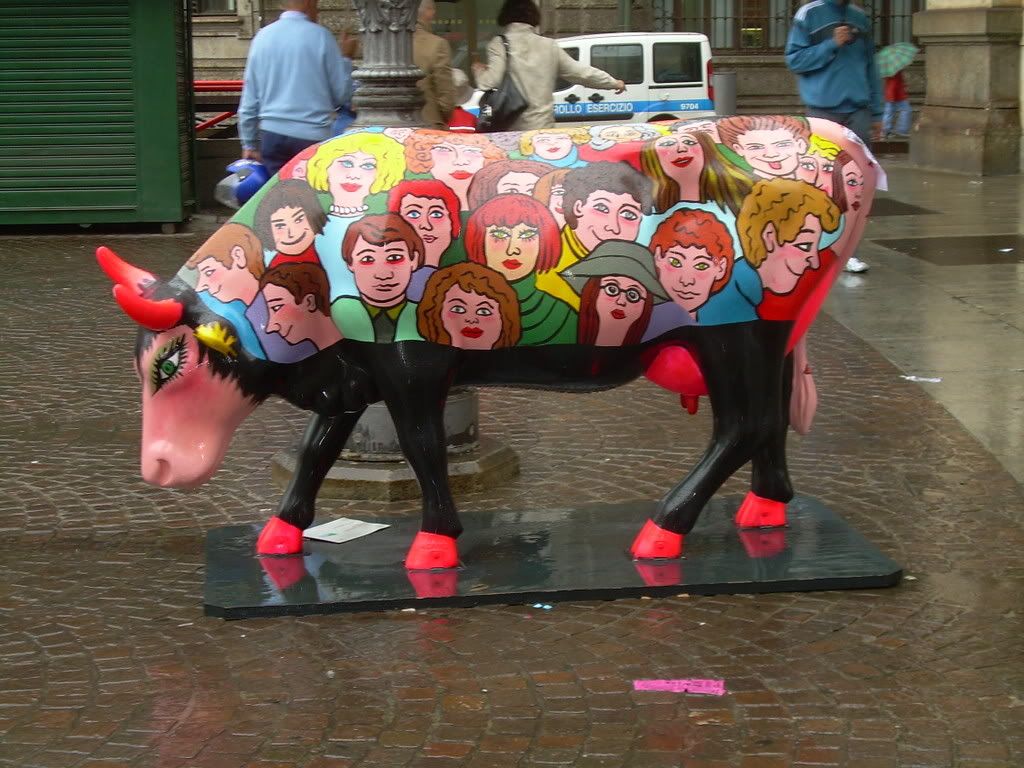 Cow.




My favorite cow.




I have been on the computer for a while now, so I think I'll leave it at that. There are plenty more photos and plenty more cows. Wish me luck on my sociology and music interrogations!

P.S. Katie, I got your e-mail, but my e-mails bounced every time I sent them. You look so cute in your prom dress!